Between Grief and Happiness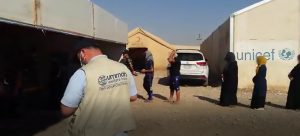 Ummah Welfare Trust's UK team are currently in North Iraq providing financial assistance to refugee families from Mosul. Read their first account:
Today we travelled to the dusty al Khazer Camp just outside the city of Erbil with the aim of assisting over 1,000 needy families from Mosul. The plan was to distribute grants from 8am to 8pm.
During the long hot day what struck me was the sheer number of widows and young children who survive in these camps. Most of them have been in these squalid conditions for nearly five years now and hold little hope of ever leaving.
In our distributions we met a beautiful young orphaned girl. She was just four years of age. Her father was killed in terrible fighting that engulfed Nineveh in 2017. The sorrow of that loss was clearly visible on her delicate face.
Looking at her, I immediately remembered my own 4-year-old daughter and the many blessings that Allah has bestowed upon her: the shelter, food, love and security.
Alhamdulillah she has a father who takes her to school every day, joking and reciting du'as with her along the way. I remembered how affectionate she is with me, as any father with a daughter will know, and then I looked again at this precious orphan and realised what a heart-breaking loss she has suffered.
May Allah reunite all these innocent orphans with their parents in Jannah. May He avenge their suffering and loss.
Ummah Welfare Trust UK Team (Iraq, 09.09.2020)