One way through which Ummah Welfare Trust's 100% donations policy has been maintained is through a nationwide clothes recycling scheme.
You can donate old clothes at any of Ummah Welfare Trust's clothing banks around the UK. These are recycled or sold at charity shops to generate a revenue.
Ummah Welfare Trust has over 160 clothing banks across the UK, ensuring that thousands of tonnes of old clothes don't end up as waste.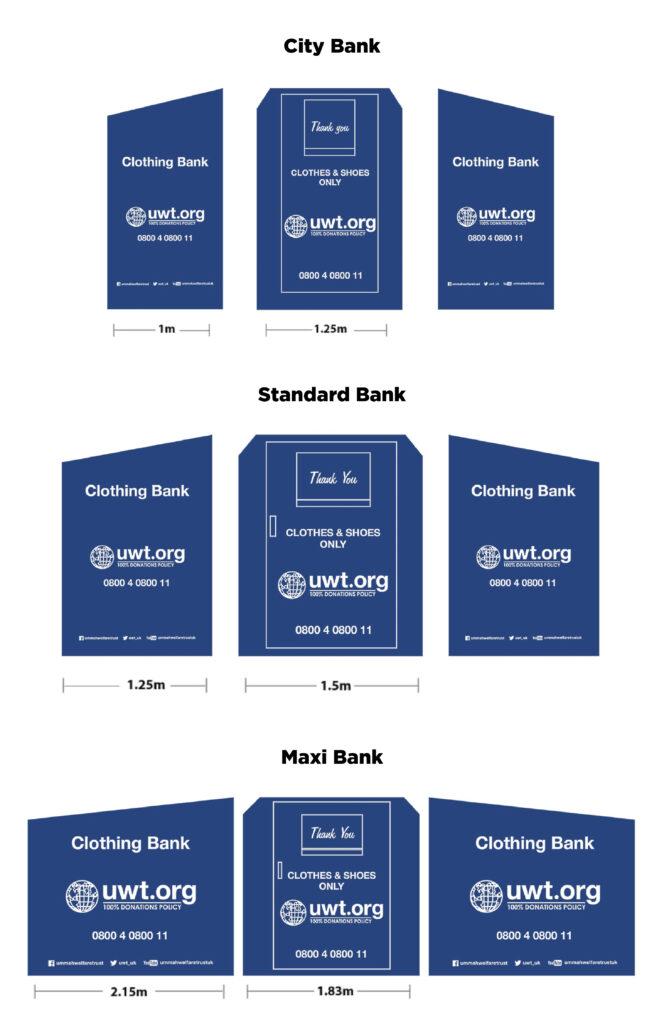 Would you like to help Ummah Welfare Trust maintain its 100% donations policy?
Do you have space in your local Mosque, Madrassah or business car park?
Would you like a clothing bank like one of the above?
If you're interested in a clothing bank, please call us and gain the rewards for the humanitarian work carried out by Ummah Welfare Trust
Find your nearest clothing bank!
Selling second-hand goods prevent them from going to landfill and ease the pressure on using new resources to create and purchase more goods. Alhamdulillah, the proceeds help cover the charity's administration costs.
What to Avoid Donating in Clothing Banks
Rubbish and surplus household goods should not be disposed of in Ummah Welfare Trust's clothing banks. Ummah Welfare Trust incurs more costs having to dispose of these items appropriately. Items you shouldn't donate include:
Please do not overfill your bags so that they easily fit into the chutes and do not tear.
Washed, pressed and properly bagged clothing are ideal, keeping costs down and helping Ummah Welfare Trust recycle them in the best manner.