Solar House Lights for Rohingya Muslims
Over the past two years Ummah Welfare Trust has been delivering humanitarian aid and relief programmes to our Rohingya brothers and sisters in South Bangladesh.
Following surveys however we found that most Rohingyan families had either zero or poor quality lighting in their homes. Ummah Welfare Trust has responded with an innovative programme by providing solar house lights to 13,000 families over the course of two weeks. The solar lamp systems will allow families to enjoy abundant lighting in their homes.
Since there is minimal electricity in the camps, the beneficiaries have been hugely excited about these solar house lights. They have been surviving till today with almost nothing, having fled for their lives from the horrific genocide of their homeland in 2017.
I have never seen a project which has provided such immediate benefit. The solar house light is a unique item, providing easy bright light. It is also eco-friendly and easy to use. Each solar house light contains three lamps with a switch mechanism, a battery source, a mobile lead, wire clips and a solar panel.
Every name and thumbprint (signature) of the beneficiaries were verified by field staff, after which they were able to receive a solar house light. They were then given instructions on how to set-up and use the lighting system. Tutorials were given in groups and carried out in the Rohingyan language.
All the mazis, group leaders for each zone, ensured that everyone in their area arrived to collect and learn about the solar lights.
It was tough seeing the young, old and disadvantaged queue patiently under the scorching sun. In the end however, it was worth it alhamdulillah. The highlight of my day was seeing their elation and abundant du'as when they were given the lights.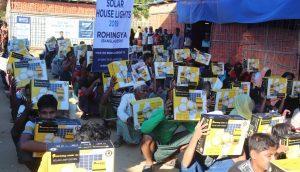 Looking at their faces, every one of the Rohingya beneficiaries had a difficult story to tell. They were still hugely grateful nevertheless for what your donations did for them.
The distribution of solar lamps continued throughout the day, in the end benefitting over a thousand families alhamdulillah. The distribution will be ongoing until all of the 13,000 solar house lights are received by the beneficiaries.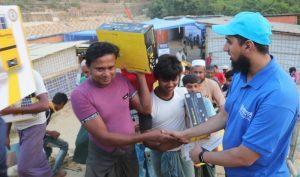 'The Ummah is like one body' and I no doubt believe that we can uphold this statement by supporting projects like these for the poor and needy around the world.
Junaid Chapti
(UWT North West Fundraising Officer)