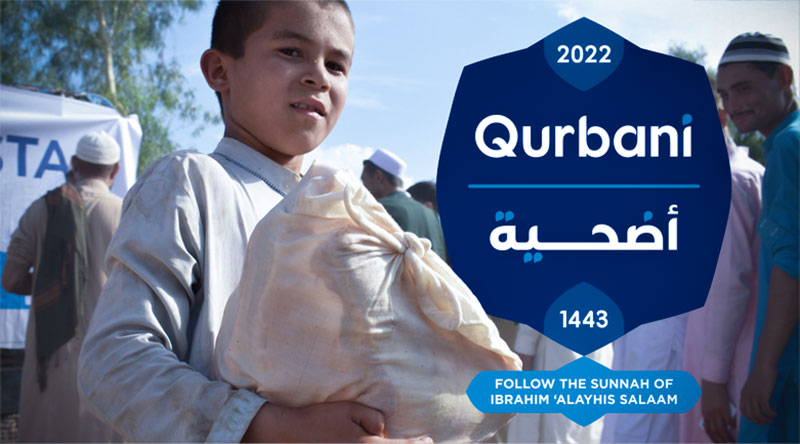 Alhamdulillah, Allah continues to shower us with seasons of goodness wherein we can avail ourselves of His mercy and forgiveness.
Though Ramadhan is over, we are now in the months of Hajj. These days will culiminate in the great days of Dhul Hijjah and the blessed act of Qurbani.
Prescribed in the Book of Allah and the Sunnah of His Messenger ﷺ, Qurbani is one of the great symbols of Islam. It is an emphasised Sunnah, and carries great merit and reward.
'WHOEVER OFFER A SACRIFICE AFTER THE (EID) PRAYER, HAS COMPLETED HIS RITUALS (OF QURBANI) AND HAS SUCCEEDED IN FOLLOWING THE WAY OF THE MUSLIMS.' [BUKHARI]
With Ummah Welfare Trust, you can offer your Qurbani in one of 16 countries this year, alhamdulillah. Not only can you fulfil the Sunnah but you can do so while feeding the poor and forgotten.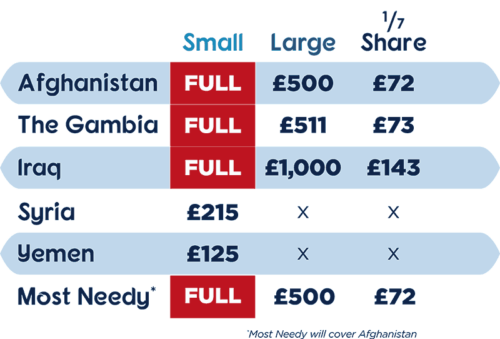 A small animal counts as 1 share. A large animal counts as 7 shares.
Please provide a name when donating your Qurbani.
Deadlines for Qurbani donations are subject to country quotas being filled.
Cheques and postal orders, with details of your Qurbani (subject to availability), must be received no later than Friday 24th June 2022. Personal details, including a contact number, should be provided.
Donations via bank transfer should be made no later than Tuesday 5th July. After this date, an animal may not be assigned to you.
Prices have been rounded up. Any surplus money will also be used for charitable purposes.
When making a bank transfer, please include a reference, including an address or Donor ID. Please also email [email protected] with details of your Qurbani and donor details. If no information is received within one working day of making the transfer, Ummah Welfare Trust will receipt it according to the nearest Qurbani price. Otherwise the donation will be receipted as 'Sadaqah.'
The options for you and your family are many, so be generous and sacrifice with a happy heart.
May Allah allow us to worship and remember Him as befits Him; and give us the ability to follow the traditions of His noble religion in the coming days.