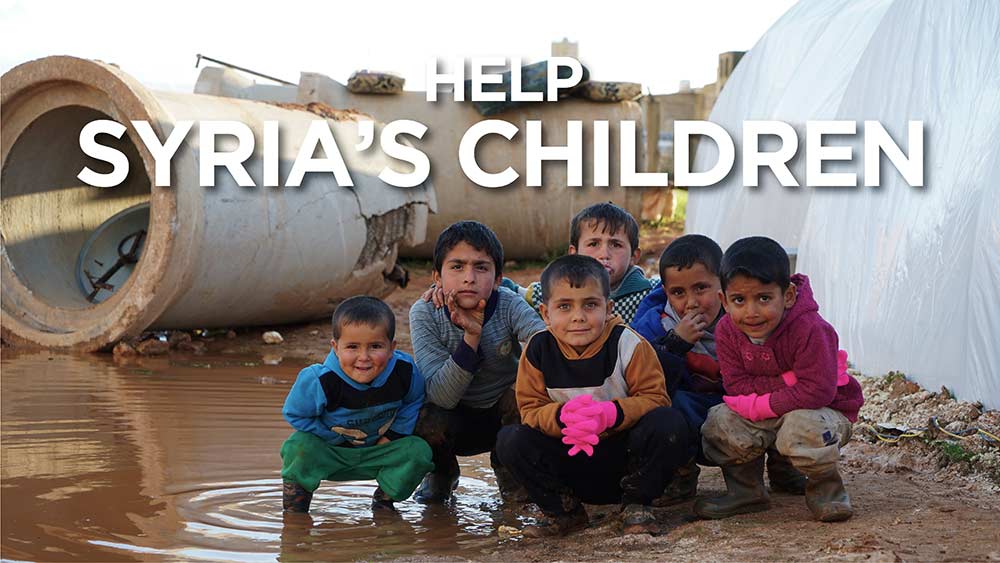 Idlib Crisis Appeal
Idlib remains the last refuge for Syria's weary Muslims. Over a million of them are already displaced from other parts of Syria, and at least half of the population are children.
Ummah Welfare Trust has launched an emergency appeal to help them and other civilians in North Syria. The charity needs your help to provide them with food, medical aid and other vital supplies.
Please help. The world has abandoned Syria's Muslims. We mustn't do the same. Donate your Zakat, Sadaqah and Lillah and help them to see better days.
The Work in Syria since 2012
2021: Helping Survivors to Recover and Grow
In a new programme, over 900 teachers across Idlib and Aleppo were enrolled on a teacher sponsorship programme to ensure they were given a salary.
Over 150 young Syrian were enrolled on trainee programmes to help them develop skills and earn an income.
2020: Responding to the Renewed Assault on Idlib
In Idlib city, following a wave of new refugees, Ummah Welfare Trust established new soup kitchens which provided 16,378 cooked meals to needy families.
A thousand newly displaced families at the beginning of the year were given new tents.
In response to the new rounds of displacement, 1,000 families were each given three blankets in March this year.
In the countryside of Idlib and Jisr Al Shughour, 2,760 displaced families were given large food baskets.
Over 12,000 tins of baby milk powder in total were provided to 750 malnourished babies in Idlib.
A new echo ultrasound machine was provided to Binnish hospital which today treats around 50 patients a day.
Three thousand orphans continue to receive financial support every month.
753 families tending to injured persons and amputees were each given $50 a month as support.
In response to the spread of Covid 19, over 2,000 displaced families in Idlib's countryside and in Aleppo's Azaz district were given hygiene kits.
Much-needed gastrointestinal endoscopy and ENT equipment was delivered to Binnish hospital to help freely treat displaced patients.
For three months towards the end of the year, fresh bread was given twice a day to 6,800 poor families.
A huge zakat programme, delivered over four phases and worth £4.8 million, saw over 29,000 families across Idlib and Aleppo given $200 each.
Over 20,000 families were given Iftar packs for Ramadhan 2020.
Over 10,000 famlilies living in camps across Idlib were supplied with fresh packs of bread every day.
The walima started in which donors could feed orphans and displaced Syrians in Idlib.
1,700 families were given baby milk powder supplies to help their malnourished babies recover.
The orphan sponsorship programme expanded to 3,350 orphans, with each given monthly support, alhamdulillah.
5,058 families were given Qurbani meat on the days of Eid ul Adha.
2019: Helping in the Northern Safe Havens
Vital medical equipment was sent from the UK and delivered to Sham Hospital in Sarmada, Bench Medical Complex and Al Noor Hospital for women and children.
In a £1 million programme, 6,000 families across Western Aleppo were each given $200 to help them with their immediate needs. Widowed and orphaned families were prioritised in the programme.
For Ramadhan, over 13,000 families in the countryside of Aleppo were given Iftaar supplies alhamdulillah.
On Eid day, over 100,000 families were given dates and bread (in accordance with the Sunnah of Sadaqatul Fitr.
For Qurbani, 398 rams and 2 bulls were sacrificed to feed over 3,500 families on the days of Eid, alhamdulillah.
In August, 850 teachers (covering Idlib, Harim and Aleppo) were given hygiene kits.
In the month of September, over 19,000 families across the countryside of Idlib were given large food baskets. Many of the families were displaced families who had fled Hama.
In the autumn of 2019, 260 families in the district of Harim were given supplies of baby milk powder for their young children.
753 families tending to injured persons and amputees were each given $50 a month for the full year.
A nursery in the town of Sarmada  was fully subsidised allowing hundreds of displaced children to learn for free.
3,000 orphans across Idlib and West Aleppo received monthly cash support for the full year.
1,491 displaced families in Idlib's countryside received free packs of bread daily for at least three months.
13 containers of relief supplies were sent from the UK through 2019, alhamdulillah.
For the winter programme at the end of 2019, 1,325 families were given carpets and blankets for their tents or makeshift homes.
2018: Responding to Ghouta & More
Relief efforts at the start of 2018 focused the catastrophic situation in East Ghouta where a full assault left 400,000 civilians in peril. Until the collapse of Ghouta, Ummah Welfare Trust provided 9,788 cooked meals, 27,000 packs of biscuits, 300 packs of baby food and 5,116 packs of bread.
Following the expulsion of families from Ghouta, Ummah Welfare Trust begun the rehabilitation of 200 flats in Idlib to help Ghouta's families recover. Over 1,600 families were helped with food, cash and non-food supplies.
Over 800 newly-displaced families from Hama who had arrived in Idlib were helped with food and blankets. A further 1,700 displaced families were provided with food and fuel, while 250 families were provided with tents.
At the beginning of 2018, 3,350 displaced families across Aleppo, Idlib and Hama were given 100 litres of diesel, while a further 3,350 received blankets and mattresses.
In response to the escalation around Idlib's borders at the start of 2018, 844 desperate families were each given food parcels, 20 litres of diesel and 5 blankets.
In response to the same escalation, a further 2,104 families received food parcels and household supplies. Another 340 homeless families were also given new tents.
During the first half of 2018, 800 widows (400 in Azaz and 400 in various districts of Idlib) were given large single cash grants to help them meet their families' needs.
Over 10,000 families across different camps were helped with a daily supply of bread for at least one month.
For Ramadhan, 17,507 families were given Iftaar baskets, alhamdulillah. In towns and camps in Idlib, Aleppo, and Dara'a in the south, families were helped. The total programme was worth over £1 million.
For Eid ul Fitr, 2,528 families in besieged Dara'a were given food baskets to enjoy on the day.
Over 1,600 displaced children in the countryside of Idlib were also given Eid gifts, alhamdulillah.
For Qurbani, 250 rams were sacrificed and their meat distributed to 2,800 displaced families.
In a big programme through the summer of 2018, 4,950 families were helped with food baskets and household supplies. The programme covered areas in camps in Idlib, Azaz and Sarmada.
753 families tending to injured persons and amputees were each given $50 a month for the full year.
Electricity generators, ultrasound machines and surgical equipment were purchased for several hospitals in Marat Al Nu'man, Al Jeeneh and Killy.
New flats and housing were renovated for 200 families who had been forcibly evacuated from Ghouta. The new homes were in Sarmada, Idlib city, Ariha and other areas.
Three under resourced maternity hospitals and five primary care centres received beds and other vital equipment.
2,780 orphans across Aleppo, Idlib and Hama received monthly cash support for the full year.
2017: Maintaining Emergency Efforts
At the start of 2017, as part of the ongoing winter programme, 3,965 families across Ghouta and Homs were given emergency food supplies.
Ummah Welfare Trust distributed fuel supplies to families forced from East Aleppo and now residing in Idlib or North Aleppo. Over 2,600 families each received 20 litres of fuel.
Beginning 2017, the widow support programme in Syria expanded alhamdulillah. Widows in Idlib, Hama, Dara'a, rural Damascus, Azaz and rural Aleppo were all given cash assistance. Over 2,300 widows were helped in the first five months of 2017.
2,682 families across rural Aleppo were given 20 litres of fuel to help them see through the winter into spring.
Through 2017, over 10,700 families were given emergency food and non-food assistance. This programme covered besieged parts of Damascus, northern Homs, Dara'a, East Qalamoun and Idlib.
Ummah Welfare Trust's bread bakery in Binnish, South Idlib, continued to provide 1,350 packs of fresh bread daily.
The orphan sponsorship programme expanded to 3,000 orphans. Each child was given monthly support of $50.
270 teachers across 6 schools in besieged East Ghouta were supported to ensure that over 1,600 children could continue studying for free.
The injured support programme also expanded to provided monthly assistance to 753 injured civilians.
Towards the later part of 2017, 3,200 widows living in various towns and villages across Idlib and Aleppo were given single cash grants to help them and their children.
At the end of 2017, over £100,000 of medical equipment was provided 3 maternity centre and 5 health clinics in Syria.
The 2017-18 winter programme was one of Ummah Welfare Trust's largest, with 12,960 families across Syria being helped with food, cash and non-food supplies.
Eight containers of relief supplies were sent from the UK to Syria through 2017. Clothes, gift bags, hygiene supplies and specialist medical equipment was delivered.
2016: Expanding Work in Syria's Besieged Areas
In early 2016, in response to the intensified bombings over Aleppo, Ummah Welfare Trust established a soup kitchen in Idlib to feed around 5,000 people fleeing the raids.
The massive spike in injuries also prompted the charity to ship 10,000 packs of Celox (an emergency blood-stopping agent) from the UK to hospitals and clinics across Syria.
As part of the annual Kidz 4 Kidz campaign, in February 2016, over 1,600 orphan received new gifts, alhamdulillah.
To help widowed families whose savings had been exhausted due to prolonged displacement, cash grants were provided to hundreds of widows in the Rayyan, Shammarin and Siccu displacement camps.
Alhamdulillah, the support of two schools in Ghouta (Alresalah School and Al Nour School), was expanded to include another 4 schools in Ghouta. The schools are in Kafar Batna, Hamouria, Jesrin and Western Ghouta. Around 2,000 children in Ghouta, which has been the scene of a three year hunger siege, receive a primary education and much-needed social support.
Also in Ghouta, where many mothers cannot lactate due to a lack of food, Ummah Welfare Trust helped provide 2,540 families each with six cans of milk powder. Mothers were also given instructions on how to prepare formula for their children.
In response to the starvation pervading besieged parts of Syria, Ummah Welfare Trust helped provide cooked meals daily to encircled residents in the mountainous town of Madaya and the Damascus suburb of Darayya. Hundreds of malnourished residents, many of whom were children, were fed.
Embattled and besieged residents in the Damascus suburbs of Moadamiyeh, Kesweh, Khan al Sheeh, Al Qadam and Al Sheeh Mountain also received dry food packages.
2015: Helping Refugees in Lebanon and expanding operations
For the winter of 2014-15, 2,000 families each received 3 blankets and a cash grant of $100. Families from the districts of Idlib, Aleppo and Deir Ezzor were helped.
5,000 Syrian refugees in Arsal camp, Lebanon, were supported with food provisions, fuel and a daily supply of fresh bread for the winter of 2014-15.
20,000 pairs of winter socks were donated and distributed to families across Idlib and Aleppo.
21,000 blankets were distributed to families across rural Aleppo.
In a project worth £1 million, 26,000 families across Idlib, Aleppo and Lattakia received clothes, blankets, mattresses and toiletries.
Operating costs at the Speciality Hospital in Babul Hawa were covered by Ummah Welfare Trust for three months. This was during a period when the hospital was overworked due to collapse of several hospitals in nearby areas.
For Ramadhan 2015, Iftaar packs were provided to 5,600 families in Ghouta, 3,370 families in Hama, 2,071 families in Homs, 1,153 families in Houla, 640 families in Raqqa, and over 10,000 families across Idlib and Aleppo. A further 6,000 families, stretching from Idlib to Lattakia to Hama, also received food packs, alhamdulillah.
For Eid ul Fitr 2015, 5,270 children, around Idlib or Aleppo, received toys and clothes.
After establishing the Ummah Camp in Idlib, the charity helped establish a 'container' village in Aleppo where a further 100 families are today supported. Families, either widowed or orphaned, are given free schooling, cooked meals, medical treatment and clothing for the different seasons. Each home is a prefabricated container, equipped with mattresses, fans, heaters, blankets and utensils.
During a proliferation of fighting in the summer of 2015, Ummah Welfare Trust provided food baskets to 1,500 isolated families in Deir Ezzor, 588 displaced families in Hama, and 2,900 displaced families in southern Idlib. Fresh bread was delivered to 7,300 households in besieged Ghouta, while 850 refugee families in Arsal, Lebanon, each received a food basket and bread daily for a month.
Eight bakeries in besieged Houla, Homs, were provided with a production subsidy to help reduce the price of bread to pre-war levels, allowing thousands of families to purchase affordable bread. Poorer families were given bread for free.
A bakery in rural Hama was subsidised allowing thousands of newly-displaced families to receive bread daily for a month.
A new bakery was established in Ariha, Idlib. The bakery provides 1.4kg of bread freely to 2,100 displaced families every day.
For Qurbani 2015, 1,000 sheep and 62 bulls were sacrificed. Fresh Udhiyyah was distributed to families in Aleppo, Idlib, Homs, Hama and Deir Ezzor. Around 30,000 families benefitted, alhamdulillah.
The orphan sponsorship programme across the country has expanded. 2,250 orphans (an increase of a thousand from 2014) now receive monthly support.
For the winter of 2015-16, Ummah Welfare Trust provided cash grants to 6,000 displaced families now facing higher costs. Of these, 3,000 families were also given food baskets, 1,500 received fuel, and the remaining 1,500 were given blankets.
Following the destruction of a vital relief warehouse in Reyhanli, Turkey, Ummah Welfare Trust provided £100,000 towards its restoration. The warehouse stocks vital relief supplies for Syria's suffering families.
Towards the end of 2015, Ummah Welfare Trust launched Operation 'Uthman al Ghani R.A. The winter campaign supported over 60,000 families across Syria with basic food and winter items. Soup kitchens were also set-up, feeding thousands of people who had fled fighting. The campaign became the charity's largest ever winter campaign in Syria, alhamdulillah.
2014: Expanding the Orphan Sponsorship programme and Operation Abu Ubaydah
For Operation Abu Ubaydah, over 3,000 families living in displacement camps across Idlib received coats, hats, scarves, blankets and biscuits.
Alhamdulillah, Operation Abu Ubaydah also saw 6,000 blankets; 4,453 food packs; 2,865 mattresses; 12,000 packs of baby food and 10,500 packs of baby biscuits distributed across Hama, Aleppo, Idlib and Homs.
Across East and Western Ghouta, 1,900 displaced families benefitted from winter provisions of food, clothing and blankets.
Through November 2013, over 2,000 blankets were distributed across Idlib.
Families residing in the Ummah Camp each received new heaters. A diesel generator was also later installed in the camp.
As part of the Abu Ubaydah Campaign, in December 2013, 850 in Aleppo families each received food baskets and blankets; while in Idlib, 850 families received food baskets and cash grants.
Through January to March 2014, 2,175 families received food baskets nappies or baby milk, depending on their situation. A further 6,075 families received blankets, baby milk, biscuits and, as and when needed, hygiene and clothing supplies. Distributions took place across Idlib, Hama, Homs, Raqqa and Lattakia.
A medical clinic in Sheikh Miskin, Dera'a, was funded. Over 2,000 patients were treated.
From January 2014 to May 2014, 6,000 double blankets, 2,865 mattresses, 4,453 food packs and 10,500 packs of baby biscuits were distributed across IDP clusters in Aleppo, Idlib and Hama.
£140,000 was spent supporting the operations wing at Babul Hawa Hospital. Approximately 60 wounded patients are being treated each day.
Aresalah schools and Al-Nour school, in the Damascus suburbs of Ghouta, are being subsidised. Alhamdulillah, 767 children are receiving free education.
Towards the start of spring 2014, 1,127 families inside Aleppo received gas and diesel supplies.
Through the spring of this year, 320 families from Sheikh Issa or Al-Atareb (both in Idlib) received food and hygiene supplies. Displaced families residing in the Roman ruins of Shansherah also received support.
As part of the Kidz 4 Kidz campaign, 3,000 displaced children in Idlib and Aleppo were provided with clothes, stationary, toys and sweets.
In April 2014, a bread factory in Tal al Karamah was established. Over 1,500 packs of bread are now being produced each day.
Four operating theatres at the Babul Hawa hospital were fully equipped. The theatres will help surgeons perform life-saving surgery to innocents wounded in the fighting.
Over 800 orphans inside Syria are currently being supported in the Orphan Support scheme.
For the summer of 2014, 2,186 orphans received new clothes. Orphans residing in refugee camps in Turkey, Idlib and Azaz benefitted.
In June 2014, a container of baby milk powder was prepared and shipped to Turkey. Thousands of cans of milk powder was then delivered to displaced famiiles in Idlib and Aleppo.
For Ramadhan 2014, Ummah Welfare Trust delivered a convoy of goods to Syria worth £1 million. The 70-truck convoy delivered supplies to families in Damascus, Aleppo and Deir Ezzor. Over 50,000 families benefitted.
Also for Ramadhan 2014, 6,650 families inside Aleppo and 1,954 families in Zorba (South Aleppo) received Iftaar provisions.
For Qurbani 2014, 1,500 sheep were sacrificed. Meat was distributed in the old city of Aleppo; in Hretan and Zammar (Aleppo countryside); in the Idlib countryside; inside Deir Ezzor; and in the Hama countryside. Over 10,000 families benefitted.
12,900 tins of baby milk were distributed in Aleppo, Hama and Idlib.
The new paediatric surgery unit at Babul Hawa hospital in Syria was fully equipped. Supplies – worth more than £100,000 in total – included incubators, surgical equipment and an anaesthetic machine capable of dealing with neonates.
2013: Establishing the Ummah camp and helping besieged Families
8,000 food packs distributed to families across Homs, Damascus and Aleppo
200 wounded victims in Homs received emergency medical treatment
For the 2012 Qurbani programme, 108 sheep and 50 cows were sacrficed. Meat was distributed in Homs, Idlib and Aleppo.
1,200 medical kits (550 at one time and then 650 later) provided to medical centres across northern Syria
50 tonnes of flour distributed across rural areas
Winter aid kits provided to hundreds families in Aleppo
In April 2013, 7,000 newly-affected families across the Idlib, Aleppo, Damascus, Hama, Homs, Raqqa, Deir Ezzor and the coastal areas received food supplies.
Through May and June 2013, over 8,500 families from Daraya, Shab'a, Aqraba, Nashabiya, and Marj as-Sultan received food supplies.
Cooked food was provided to thousands of newly arrived refugees in Bab al-Salamah.
4,000 women and girls in Bab al-Salamah all received new abayas.
For Ramadhan 2013, nearly 16,000 families received food provisions. Families in Idlib, Aleppo, Homs Raqqa, Hama, Lazkiye and Tal Abyad all benefited alhamdulillah.
For the Qurbani programme in 2013, 100 cows and 200 sheep were sacrificed. Meat was distributed to families in Damascus, Aleppo, Raqqa, Deir Ezzor, Idlib, Hama and Homs. Approximately 10,000 families received Udhiyyah meat.
Since June 2013, widowed and orphaned families have been living in Ummah Welfare Trust's Ummah Camp in Samarda. Alhamdulillah this camp caters for all the families' needs.
For Eid ul Adha, gifts were distributed to children in Daraya.
In Mouadamiah, where 'ulema has passed a fatwa that families are allowed to eat cats, food baskets were distributed to nearly 400 families.
New clothing and medical supplies have been distributed to families in Ghouta.
Through September 2013, a total of 500 families from Khaydariya, Batan al Qas or Al Jallom (Aleppo) received food packs.
Through the same month, 350 families (of martyrs) from the Idlib areas of Marafat Numaan and Jesr Shugur received food packs.
(2012-2013) Helping Refugees in Jordan and Turkey
24,000 families provided with emergency food provisions
4,000 families received kitchen and wash utensils
4,000 families received hygiene kits
Winter aid kits provided to wounded refugees
Eight years on and the world's regard for Syria's victims has diminished sadly. However we mustn't do the same. Allah and His Messenger ﷺ have ordered us to be steadfast in good works and always assist the believers in need.
The Messenger of Allah ﷺ said:
Allah is in the help of a servant (of His) so long as the servant is in the help of his brother.'
[Sunan Abi Dawud]
Please support this ongoing emergency appeal and help Bilaad ash-Shaam's families to see better days. Donate your Zakat, Sadaqah and Lillah today.
The Messenger of Allah ﷺ said:
'I see the Angels of Allah spreading their wings over Ash-Shaam.'
[Ahmad]
£4.4 million
of aid delivered through 2019